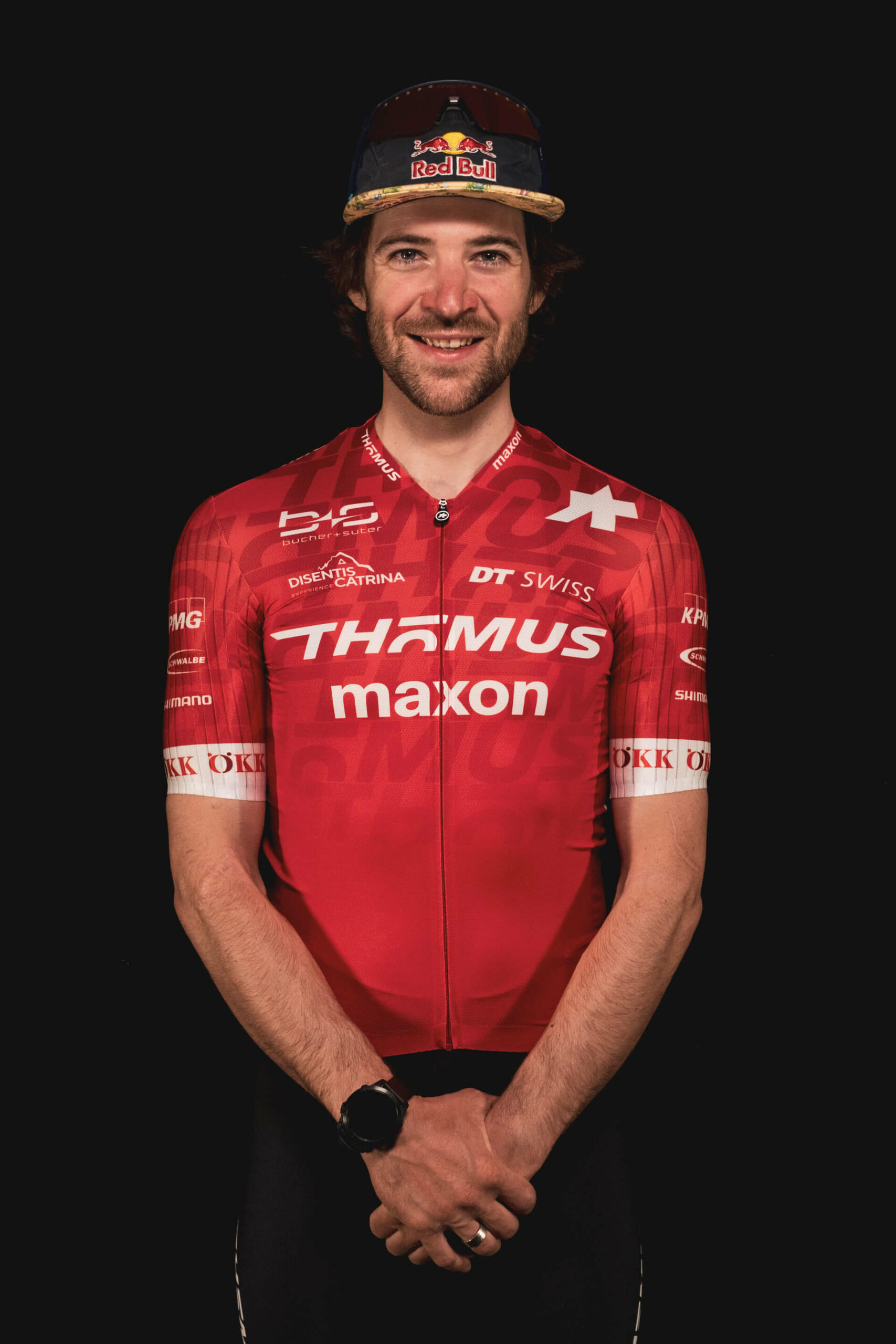 Already at the age of six he rode his first race and thus launched his successful career. Lars Forster is already a two-time European champion, World Cup winner and Cape Epic winner, and further successes in the Thömus maxon jersey are to follow. On the bike he is a multi-talent and was, in addition to his successes on MTB, already multiple Swiss champion in cyclocross.
He likes fun in training but is a fighter in the race. If he still had the leading group in sight on the final lap, he can mobilize incredible forces.
Birthday 01.08.1993
Professional career Since 2015
Hobbies motorcycle and ski touring
Mathias Flückiger is one of the most successful mountain bikers of the present day. With a silver medal at the Olympic Games in Tokyo, an overall World Cup victory in 2021, and three consecutive silver medals at the World Championships, Math, as everyone calls him, has found the recipe for success in his career.
Mountain biking is much more than just a sport for the trained construction machinery mechanic. For Math, mountain biking is his lifeblood. Equipped with the optimal setup, new technical achievements, and the feeling of freedom on the trails, the cyclist from Oberaargau is a true artist, on and off the bike.
Birthday 27.09.1988
Place of residence Leimiswil (near Madiswil)
Professional career Since 2010
Favorite trails Mont-Sainte-Anne
Alessandra is a Swiss champion, European champion, world champion, and World Cup winner. Hailing from Central Switzerland, she puts all the power of the Nidwalden mountains into the pedals. Alessandra hopes to become even faster, so she recently paused her studies at the ETH Zurich in Pharmaceutical Sciences to pursue her goals. With exceptional organisational skills, Alessandra is a real team player who is valued by everyone around her.
Birthday 27.01.1996
Place of residence Ennetbürgen
Professional career Since 2016
Favorite tracks World Cup Canada, World Cup Lenzerheide
Hobbies Sports, science, everything about movement in nature, reading, friends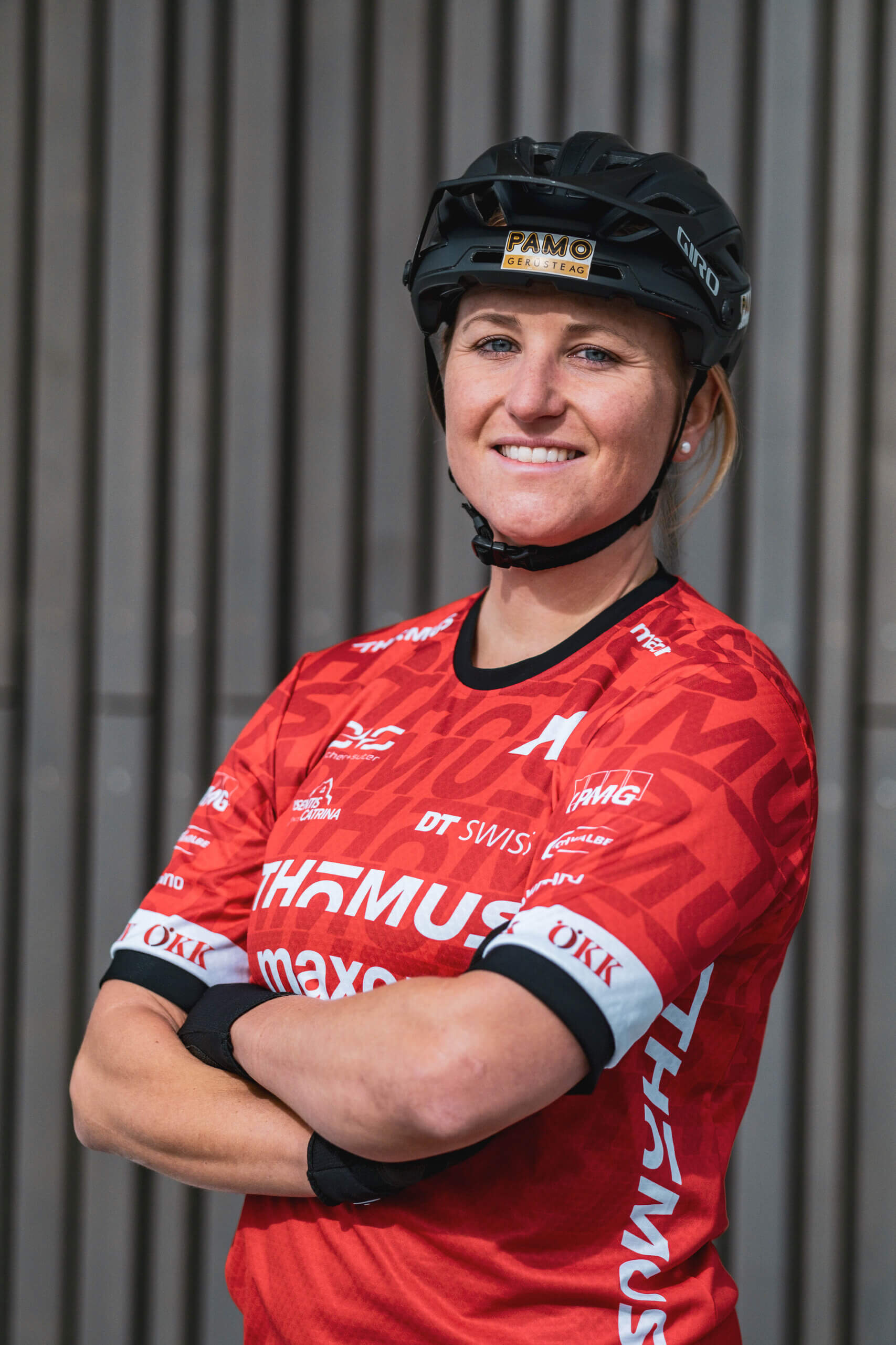 The speed queen from Aargau, Kathrin Stirnemann, comes from a family that is passionate about cycling. Her father was a successful junior national coach in Switzerland for several years, and her brother was also a professional cyclist.
Kathrin took the rainbow jersey in the Eliminator in 2017; before that, she was Swiss champion in the elite. In terms of technique, let's just say she's heard about the "chicken line" but hasn't experienced it herself. In the autumn of 2020, Kathrin Stirnemann announced her retirement from active XCO racing. However, she will remain with the team as an e-bike ambassador, where she has already been runner-up in the world championships. She is not only a racer but also works at Swiss Cycling as a national coach for MTB XCO U19 women and an assistant coach for elite and U23 women.
Birthday 22.10.1989
Place of residence Gränichen
Professional career Since 2012
Favorite tracks Canberra, Mont-Sainte-Ann, Lenzerheide
Hobbies Coffee, wine, friends
Vital is a determined cyclist from Graubünden who has already been a Swiss champion and medal winner in the junior categories at the European and World Championships. He was also among the absolute best in the U23 World Cups.
Now he is working his way closer to the world's best in the elite category. He has already achieved top rankings in various international races. We are looking forward to seeing him in the World Cup. Hungry for mental challenges, he is also studying law.
Birthday 31.7.1998
Place of residence Chur
Professional career Since 2019
Favorite tracks Bargis, Degen-Uors and Mittenberg
Hobbies Cross-country skiing, paragliding, drinking a good cappuccino
In 2020, the young man from Solothurn was crowned U19 Swiss champion. He also shone at the home European Championships with a bronze medal. Luke went into the U23 class and transitioned into the Thömus maxon Swiss Mountain Bike Racing Team, where he has integrated very well. Luke is one of the best technicians and is known for his style on the bike with his spectacular whips.
Birthday 15.11.02
Place of residence Bellach
Professional career Since 2021
Favorite tracks World Cup Nove Mesto, Les Gets
Hobbies Car lover